Udock v1
Download UDock
UDock is a free windows and linux standalone software. You can download an executable for windows here. The executable is inside the Bin directory and should not be moved. Alternatively, you can download the code source. Here the windows version, and here the linux version
Usage
Udock accepts mol2 file format as input that you can specify as argument when launching from the terminal, or by drag-n-drop the mol2 file into the interface.
Docking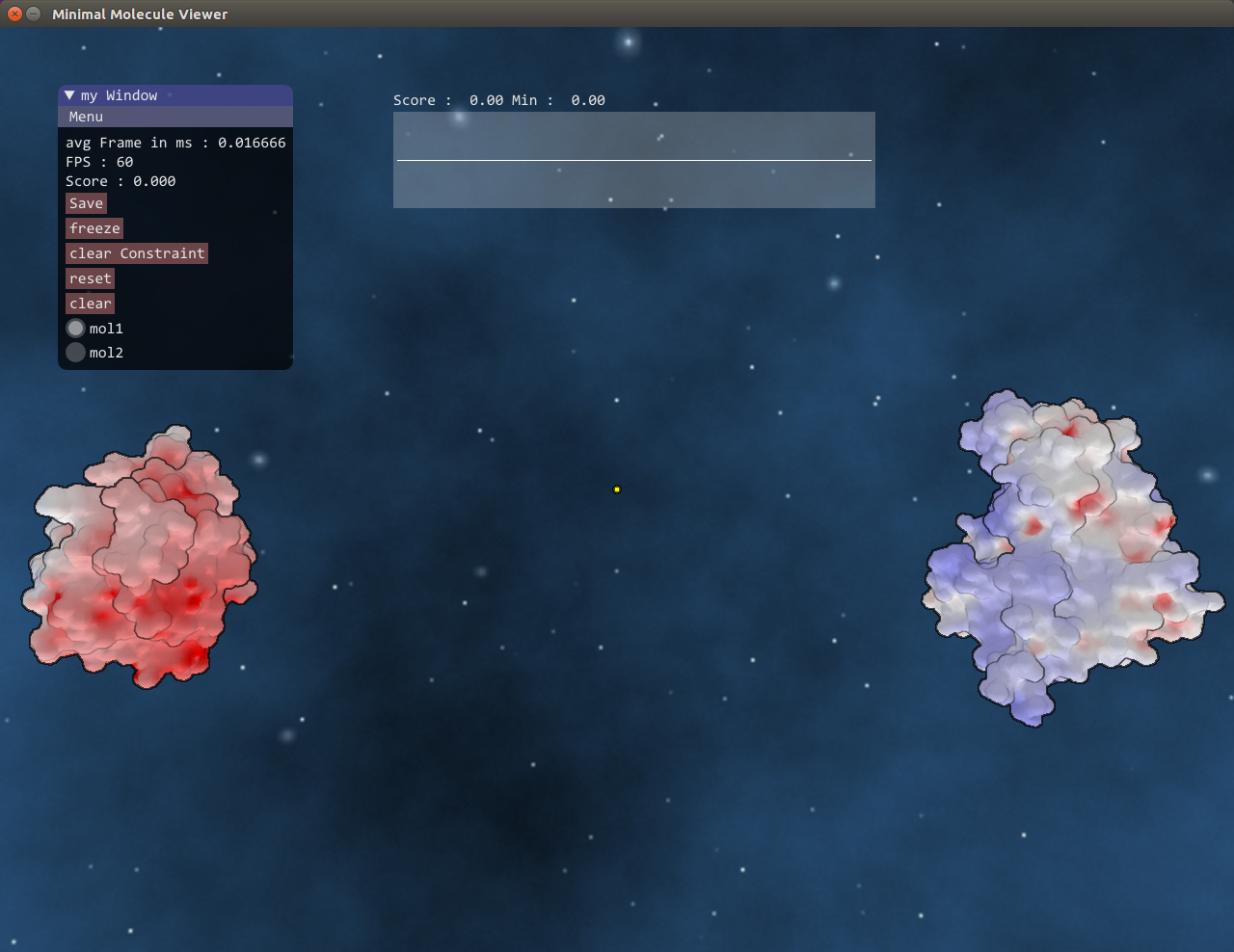 You can manipulate the molecules using the mouse. Place grapnel-constraint on the molecular surface using ctrl + left click. Delete the grapnel-constraint with ctrl + right click. You can adjust their positions with shift + left click.
Once satisfied with the grapnel-constraints positions, you can drag the molecules by pressing and holding the spacebar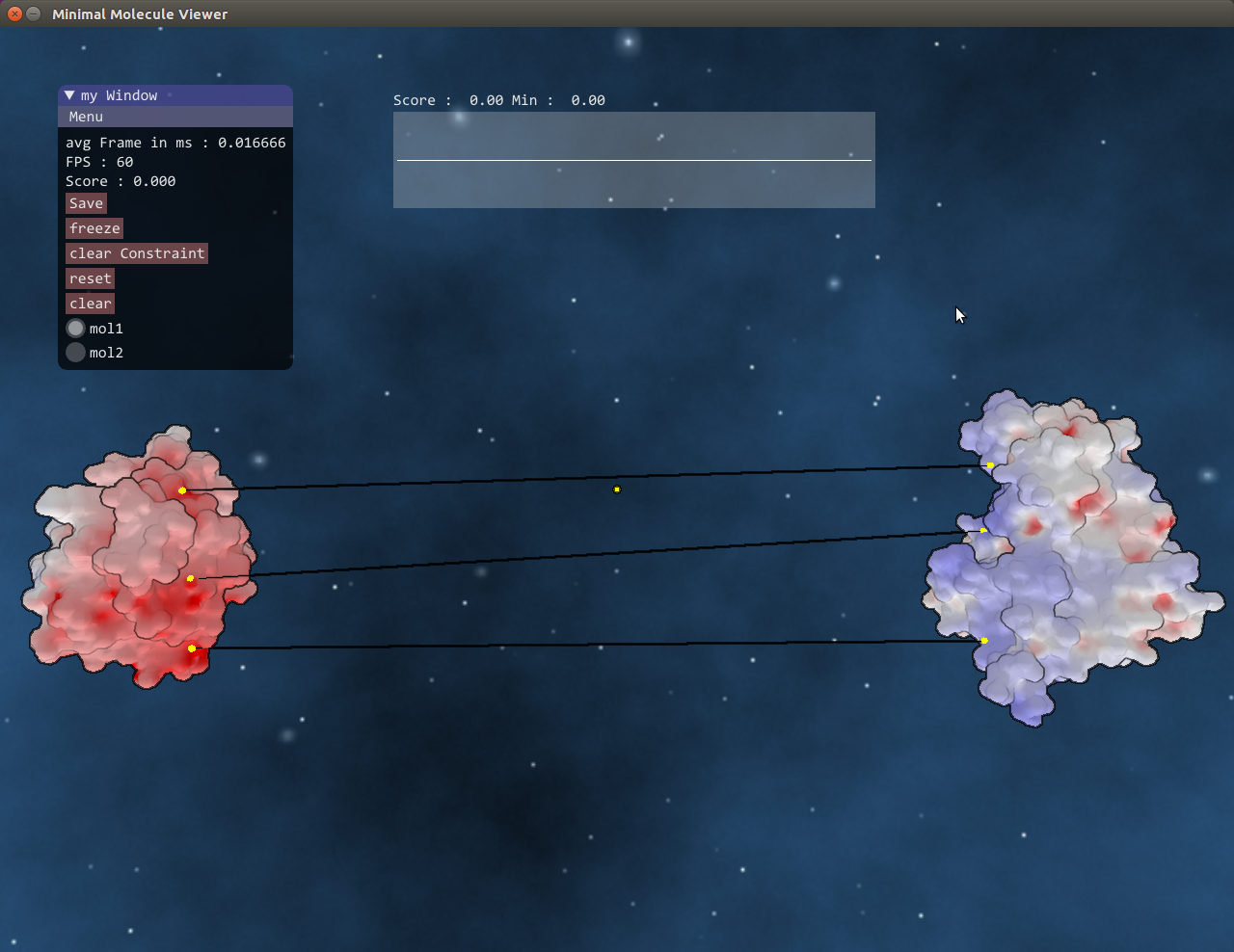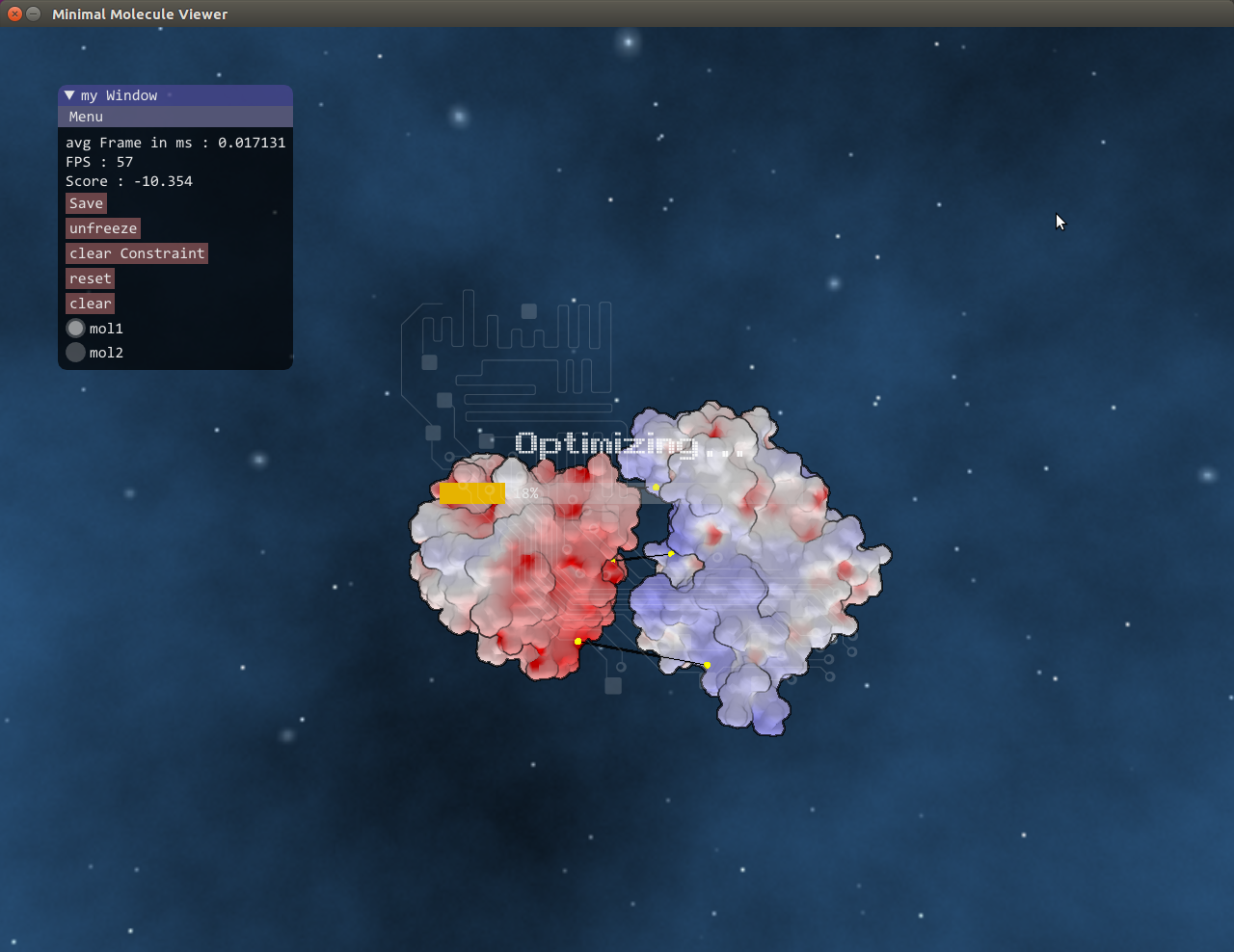 The geometry of the complex can be automatically optimized at any time by pressing the "o" key. Note that you can select the optimized molecule by selecting it in the menu. Once the optimization is performed, the molecules positions will be frozen for your convenience, you can unfreeze them by pressing the corresponding button on the menu.
You can save the current conformation of your complexes by pressing the save button, a corresponding PDB file will be created in the savefile directory.
Camera control
You can navigate in the scene using the first person navigation by using the "w","a","s","d" keys to change the position of the camera, and move the mouse while right-clicking to look around. You can also look around the focus sphere (represented by a yellow sphere) by moving the mouse whileshift + right-clicking. You can hide the focus sphere by pressing the "f" key.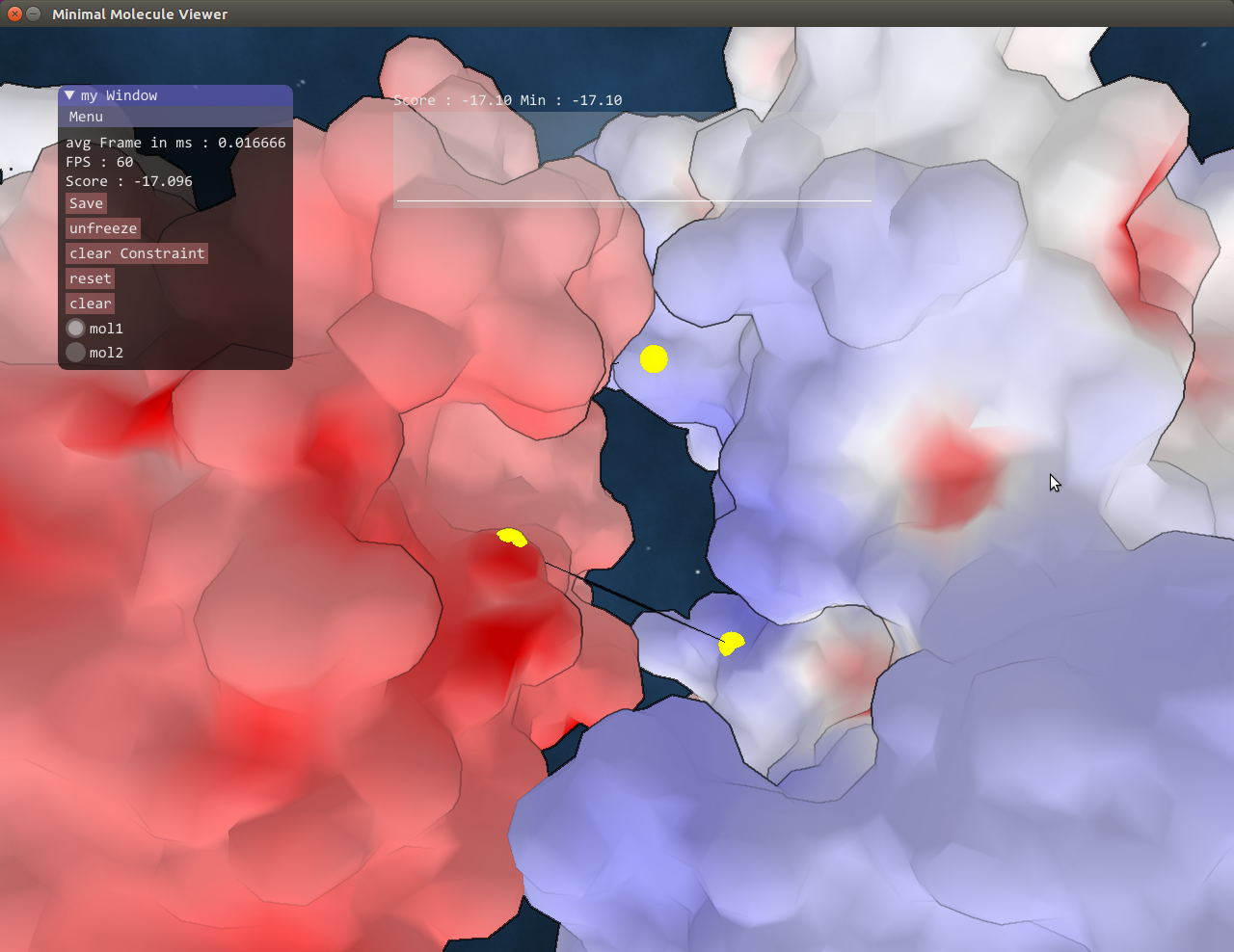 Note that you can change the mouse sensitivity and inverse the y-axis inside the option menu.
Alternatively, if you have a xbox gamepad connected, you can move the camera laterally with the left stick and rotate it with the right stick. You can move forward by pressing the right trigger and backwards by pressing the left trigger.
Spaceship control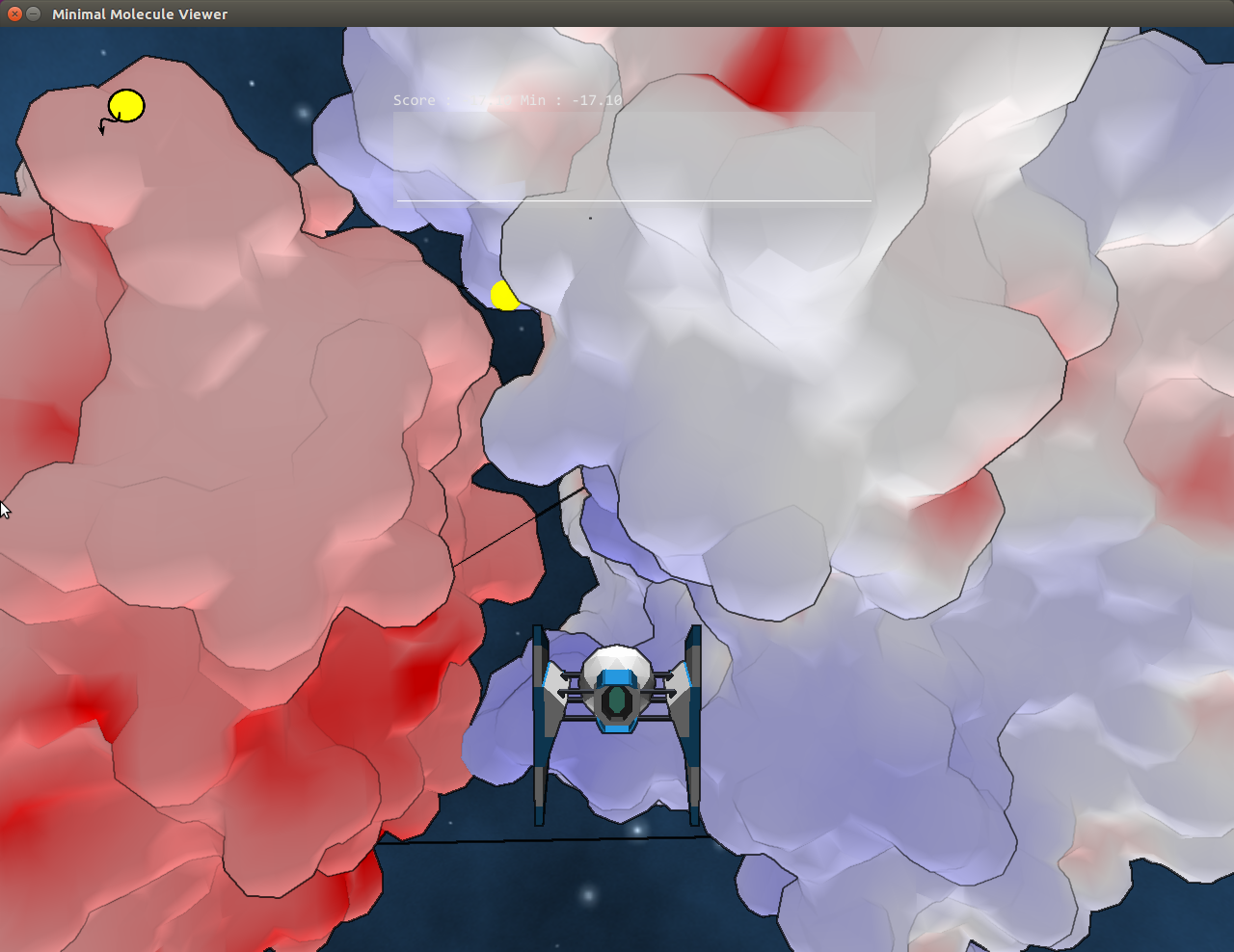 By pressing the "tab" key, you can switch to the spaceship mode. You can move the spaceship by using the "w","a","s","d" keys. you can roll around the forward axis with the "q" and "e" key. You can direct the view with the mouse and interact with the molecule by left clicking. You can change the mode of interaction with the "r" key.
The three modes of interaction are : modifying the position of a grapnel constraint, pulling the molecule towards the spaceship, pushing the molecule.
You can switch between the interior and the exterior views with the "v" key.
Alternatively, if you have a xbox gamepad connected, you can move the camera laterally with the left stick and rotate it with the right stick. You can move forward by pressing the right trigger and backwards by pressing the left one. You can roll around the forward axis with the shoulder button. You can activate the interaction mode by pressing the "A" button and select the interaction mode with the horizontal button on the D-pad. You can change the view with the "Y" button. Finally you can reset the scene by pressing the back button